I found this article while cruising
this site
.
This post's title stuck a chord with me.
I would like to declare that I am not a vegetarian, but usually eat meat killed by us or people we know.
I am a working Mum, but have gone through stages of staying up until too, too late to make homemade sourdough / healthy babyfood / handmade clothing for children / adults.
I have dragged screaming 4/5/6/7/8 year olds to dance classes and wondered why I was doing it to myself and The Enforcer.
There is guilt attached to motherhood, but after reading
this article
I feel much better.
The times my kids play best are those times when they are sent outside with an old bedsheet, or some cardboard boxes and told not to come back for some time.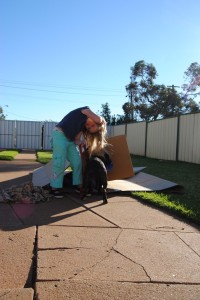 Lying on your back and making animals out of clouds should be a mandatory school subject.