I can resist everything except temptation
– Oscar Wilde
Confession time, I get a little obsessed about things from time to time and as much as I might try to ignore it I can't and dive in headfirst. Interior design magazines are one of them.
Having just finished a camping trip I've come home with a few.
Yes, I know that when camping most people don't automatically think that magazines are necessary, but believe me they are.
Children up at 5 and waiting for the coffee to kick in? Flick through a mag.
Waiting for everyone to get ready to go fishing/ mountain climbing/ bathe? Read a mag.
Far too cold for sane adults to go swimming but the kids need someone to go with them? Take a mag and look up occasionally.
Sitting around with the girls and need to convince the resident painter that the walls should be whatever shade of Dulux white is shown on page 118? You need the mag, all the girls to nod and to quietly slip him a beer.
Anyway, I'm becoming a fan of emags as I don't need to build great towers of paper that seem to populate my home.
This one is a beaut and is AUSTRALIAN!!!! Yipee!!!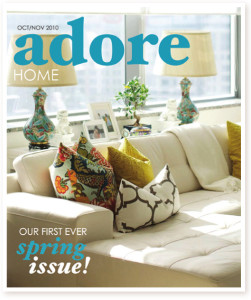 Adore
magazine is my new obsession.