The last month has been one overloaded with inspiration.
I cast on and finished this, minus the buttons…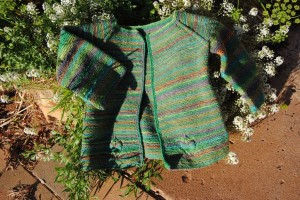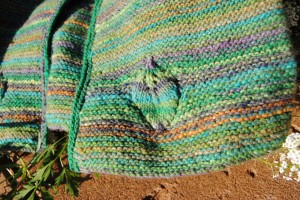 Lovely little leaf detail

Its knitted in Noro Cashmere Island and I can't tell you how snuggly and gorgeous it feels.
The colour looks a little washed out in these photos but is clear and bright in real life.


The pattern is 'Greenfield Cardigan' from 'New England Knits'
I'm really inspired by the authors of this book and love anything they put on Ravelry.


Designing more of my own ideas and publishing them inspired me to reorganise SOME of my stash. There are still two big tubs to go, but they are mostly oddments so not quite as inspiring as big, new balls and skeins of yummy colour.


(Curse you Blogger! Pictures will be posted later. Not playing fair right now!)


Last month I went to see Corb Lund play and was inspired to pick up my dusty instruments. Its been a while so a lot of practise is needed there!


The weather is getting warmer and the garden is blooming. The yard looks so much better than when we moved in and it was just a red patch of dust.
(Curse you Blogger! Pictures will be posted later. Not playing fair right now!)




I'm also inspired by this lady.


Heidi met up with us this morning to capture us at our morning best!


The Enforcer was not amused at having to get 'dressed up' and to brush her hair.


Dirtboy just wanted to climb trees and Dancing queen was too, too willing to pose.


The less said about TGWH the better. He's definitely not a morning person! He even went out at 6.50AM this morning without coffee.


Check out her website and get inspired too.
If you've thought of getting some portraits done, don't wait. Do it now as you don't know what's around the corner.


I'm inspired to get more into blog design. I think this blog needs some major tarting up.


This has led me to be my usual self and to not really focus on one thing for long enough to really achieve anything worthwhile. There's just too much to do and in so many different directions!


I'm getting ideas together for a new book too and can't seem to put down the needles long enough to get my act together on that front. Maybe after the silly season is over and the piles of handmade gifts (all in my mind at the moment!) have been given to happy receivers!


I'm not inspired to do ironing though!


: :
Kx.