The first smile, the first tooth, the first step. All the milestones that are so eagerly awaited and set in a mother's memory.
As life speeds up the milestones blur and I find myself loosing track of all the little firsts in their lives.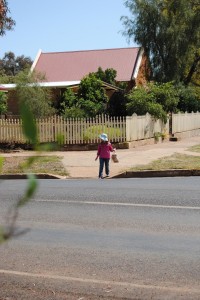 This was Dancing Queen's first trip to the bakery.
I waited hidden in the hedge, so that she wouldn't see me, as I made sure she made it back safely.
So she wouldn't see me getting teary.
There will be many more milestones, but this one felt like it was a step away from me.