Did you join?
I love
Jodie's
swaps and the last one was so fun.
Here's what I made this time for a Christmas themed swap.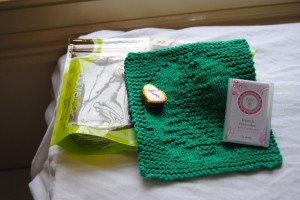 A Christmas tree cloth knitted out of peaches n cream cotton, two packet of yummy teas, a cute loveheart of compressed tea from Country Simplicity, here in Cobar, and some lovely Bloom soap leaves.
I used to think these were a bit 'Nanna' but they're great when you're on the road with grubby kids.
I hope my swappie likes them!!