The temperature is rising here and sitting still knitting doesn't have the appeal it usually does. Lace weight alpaca does tend to stick to one's hands!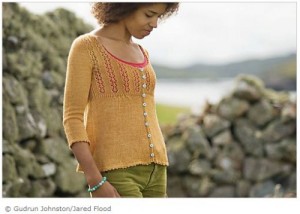 I've been clicking away on this beauty. Its the Laar cardigan from Gudrun Johnston's book 'The Shetland Trader'. This book has some beautiful designs and there are quite a few in my queue. I didn't swatch (ahem) and decided to do a smaller size as casting on 372 stiches sitting outside with friends, wine and heat was not fun, so the growth in the Cascade yarn I'm using is welcomed!
But, as I said the temperature is climbing and tomorrow will be over 40 C, so sewing has captured my attention.
One knitter whose patterns I like also does a bit of sewing and I'm inspired by what
she's
made.
She also has some great designs on
Ravelry
.