I stayed up way too late watching vision of the Queensland floods.
With a cousin in Toowoomba and others in Dalby I hoped that they were OK and that I felt hopelessly unable to help. After making a donation to the flood appeal I thought of another way to help.
I'm hosting a Blog Auction.
Here's how it works. You will be bidding on this.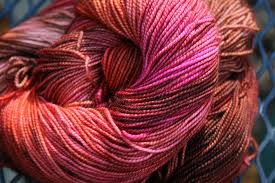 Its a skein of Sea Sock by Dragonfly Fibers in the Canyon Flower colourway.
70% superwash merino and 30% sea cell put up at 378yds/4oz.
Imagine a little pink flower in the desert. It really captures those colours
Truth be told I had a different skein I didn't love so much that I was going to donate…but I want the winner to end up with a gorgeous skein and a feeling of doing something good for someone else too, so this is the one!
The bidding will start at $10 AUD and will increase at a minimum of $1 AUD bids.
You leave your bid in the comment section and link to this post in your own blog to spread the news.
The auction will end next Tuesday 18 at 7pm AEST.
The winner will be the highest bid left in the comments section. After they have donated the nominated amount online at
http://telethon.smartservice.qld.gov.au/
and emailed a copy of their receipt to me, I'll post off the skein along with a deep sense of gratitude.
So pop onto the comments section and place a bid.
Don't forget to link to this post in your blog to get others involved.
Let's see what we can do to help.