Has it happened to you?
You make a committment to finish what ever it is you are doing and then,
AND ONLY THEN
can you get on with something else. You know….
I'll do the dishes AND THEN I'll sit down and relax.
I'll go for a long walk AND THEN I'll eat just a tiny bit of chocolate.
I'll finish a project AND THEN I'll start something new.
Well for me this weekend the wheels fell off.
IN A BIG WAY!!!
I started TWO new quilts and TWO new knitting projects!!!!
BLISS!!!
Day one for me was spent learning machine quilting with
Pauline.
I'm going to turn all of my sample blocks into a quilt that I have no real love for other than the Amy Butler fabrics that I've backed it with.
Day two was spent starting
this beauty
, putting into practice what I'd learnt the day before. So far I've got two butterflies done and will get it finished for the end of April.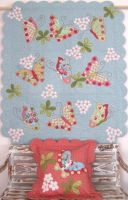 In between all this sewing I started this
jacket
,
ready for some nice knitting time on the way to Griffith next weekend. Its knitted out of Amy Butler Belle Aran. I have grown to love this yarn. It has a soft hand and I hope that it hangs well when its finished.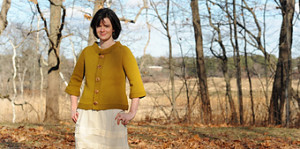 Then, just to prove that I am obsessive, I started the
Lee
hat.
Seeing it on Ravelry was love at first sight and I had to start it right away.
This against all better judgement…
Does it protect me from the sun?? NO.
Can it be worn right away?? NO, its way too hot at the moment.
Does it feed my fantasy of living in the English countryside and rambling along wooded lanes dressed in tweed trousers and sensible brogues, topped with a beautiful cardigan and cute hat, before stopping off at a sweet village Tea Shop and indulging in tea and scones?
YES! YES!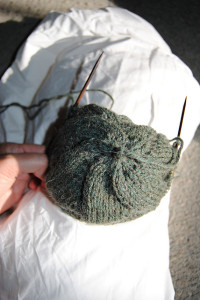 I've chosen a heathered green, grey yarn from
Jellywares.
To me it had a vintage feel. Not really a colour I would usually wear but it felt so right for this pattern.
Now my arm aches and I'm too tired talk!