Happy Valentine's day!!!
I admit that this must be the first year that I've kind of got on the Valentine's bandwagon.
I bought The Great White Hunter a scrummy gingerbread heart and wrote smooshy cute things on the kids' dinner plates with edible ink textas.
But I really think that next year I'll really make an effort and handmake something for them all.
There are so many amazingly talented people out there in blogland and I can't help but be enthused.
You could try making something I made up the other day when the girls came over for 'Wine Time' and a bit of stitching.
Take two packets of choc mint biscuits.
Process until they look like fine chocolatey, minty smelling sand.
Mix in one block of softened cream cheese.
Let the mix sit overnight in the fridge.
Take the softened, muddy deliciousness and roll into walnut sized balls.
Melt a block of dark chocolate with a little copha.
Coat your minty little friends and chill until you call the people you love to come and share them.
Try it with Tim Tams too.
Now for something healthy…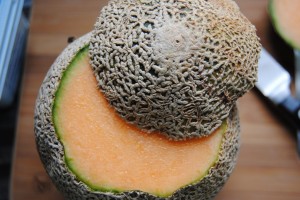 This baby has to take the award for the most delicious rockmelon of the year.
Home grown (sadly not by me), vine ripened and the kids and I ate it in one sitting.
So sweet and juicy.