Lordy! It's been a while and I've missed my little blog, thought of things I wanted to blog about, but typing while knitting is not my strong point!!
In July, around my birthday I was hit with an illness for which there are only 2 cures. Ignore it or dive headlong into it.
I chose to dive headlong into a big dose of Knitting Fever, and I've loved every minute of it. Lots of late nights and bleary eyes but it has been wonderfully uplifting to give myself over to my passion.
It has not been so kind on my house, which has suffered from a lack of housework, or my family which have had to put up with some bizarre things as I've given up all interest in cooking.
Before I do some posts of 'show and tell', here's a little recipe that came about when I felt guilty about not making dessert. And guilty about not using the apples that would have been great a week ago, but now are looking a little wrinkly…
Cheat's Apple Strudel
Turn the oven on to about 220C. Take at least six apples. Mix up the varieties. I used golden delicious and pink ladies. Slice and fry in some butter and as they soften add a little cinnamon.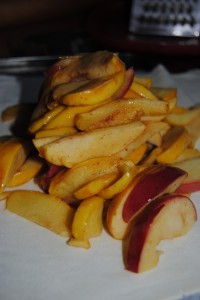 While you're cooking that defrost a sheet of puff pastry. When its all soft, roll it out as thin as your patience will let you. Cool your apple mix a little before placing down the middle of your pastry, roll your pastry around it then place it seam side down on a lined baking tray. Slash a few cuts on top and brush with melted butter. I added a few flaked almonds, but they got a little burnt…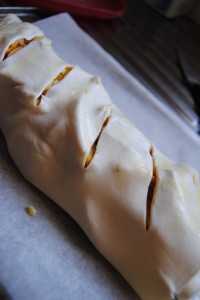 When the pastry is all lovely and golden, take it out and let it cool a little before slicing and serving. Will you have cream or ice cream? Or custard? Or all of them??