A while ago I went to a BBQ for some friend's birthdays. What to take along?
Spare ribs for everyone of course. They loved them and have been at me to know how I made them.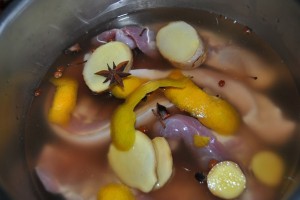 Firstly, in a large pot put your ribs. I did 1kg here, but if you've got a big enough pot do a few kilos and put what you aren't going to use straight away in the freezer to enjoy later.
Cover with water, then add the flavourings. I usually add a good slosh of Chinese Rice Wine, a couple of tablespoons of soy sauce, a few Star Anise, a few thick slices of ginger and this time I added some orange peel. It added a lovely flavour and I'll definitely do it again.
Bring the whole lot to the boil and then turn down to a simmer. Simmer it gently for 2-3 hours. If you've got time let the ribs cool in the stock to keep them moist.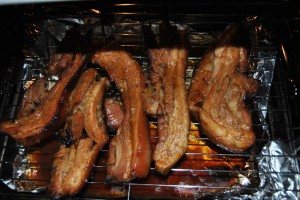 Mix up your marinade. I use soy sauce, honey, five spive powder, and a tablespoon of sesame oil. I play with the proportions until it tastes good. You will need more honey then soy sauce. Marinate them at least overnight, 24 hours is better!
If your aren't cooking these on a BBQ, then heat your oven to 230C. I line the dish and put a little water in the bottom. It makes for an easier clean up. Really, at the stage you're only heating them and giving them those yummy crispy bits on the edges. Cook them until you like the colour of them…about 25 minutes or so. Baste them with the remaining marinade a few times.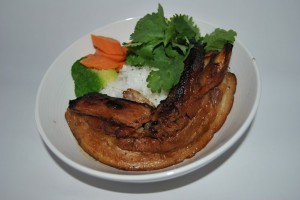 If you're having them for dinner…rice, steamed veges, and coriander make it a meal. If you're at a BBQ, well something cold in one hand and ribs in the other make it a meal!