I always look at blogs I love and think 'How do they keep up to a schedule of regular posting?'

Umm, it might be a bit of discipline. Something I've been lacking recently on the blogging front.

I also spend my spare time with my hands full of yarny stuff. I've recently been using some fabulous sofTrope soft singles, a delicious single ply merino yarn. It was dyed by Jessica at sofTrope, a Melbourne based dyer.

I used it to knit Cecily Glowik MacDonald's Georgia Vest. I absolutely loved this knit. It was the first time I've used a single ply fingering weight yarn and this is gorgeous. The colourway is called 'Aphra' and combines shades of navy and blue. The pattern is so simple, but the resulting garment, while casual, is rather stylish. I'm a fangirl when it comes to her garment patterns.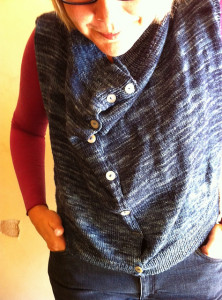 I also love Cecily's new Islet pattern, but after looking at my Georgia vest decided I could style it the same way, by looping the cowl neck and buttoning it around my neck.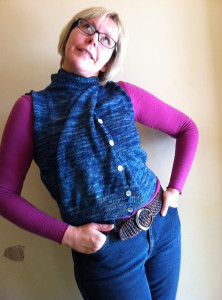 Come on over to Ravelry and tell me what you think of it!