A drizzly afternoon and we needed something yummy to fill our tummies. I've always been conscious of decreasing the amount of processed foods in our diet and have double my efforts recently. I had a fossick through the cupboards and the fridge to whip this up.
Next time I make this I'll add some cinnamon or nutmeg to it. It was super quick and tasted great. The kids had theirs with lashings of butter and honey. I had mine just as it was, warm and delicious.
Wholemeal Apple and Banana Loaf
2 cups wholemeal self raising flour
1 cup shredded coconut
1 tspn baking powder
1/2 cup sunflower kernels
1 cup stewed apple
1 ripe banana mashed
1 Tblspn coconut oil
1/2 cup rice milk
A few extra sunflower kernels to scatter on too
Preheat your oven to 180 C. Line a loaf tin with silicon baking paper, or grease and flour it if you prefer.
Mix dry ingredients together. Add the wet ingredients and mix well. Pop in your tin and bake for about 40 minutes. Poke a skewer in the middle of the loaf to check if its cooked. It will be very moist, so be careful not to overcook it. Cool for 10 minutes in the tin and then serve with butter and honey.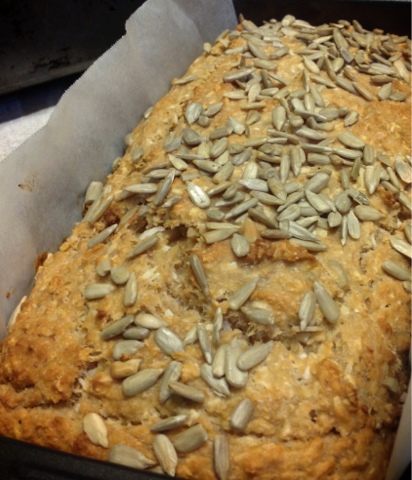 If you try it out let me know what you think. I hope you and yours enjoy it as much as we did!
Kx.