As I was sitting in the kitchen this morning, ignoring the washing up, I saw this outside my window.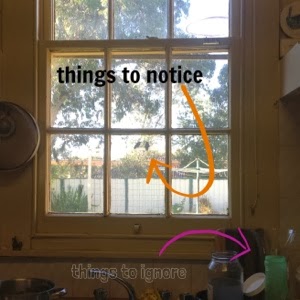 Two crows were sitting blissfully together, hopping to and fro, preening each other in the morning sun. There have been a lot more birds coming into the garden as things become drier and drier.
I have mixed feelings about crows. As a child they were cruel creatures, a symbol of drought and death. Feasting on the nearly dead ewes and lambs when no other food was available.
Since moving here I've seen another side to them. I've witnessed them deftly open a child's bag to get out food. When they come across a sandwich crust too dry to eat they flap over to the bubblers, moisten the crust and eat it.
Aesop wrote about their intelligence in his fables. While living in Japan I learnt of the admiration that they are held in there. In fact, it was only upon seeing this pair of crows that I remembered an artisan Inkan or Japanese seal carver I spent time with. He was a gentle and kind man, curious about the world and I admired the fact that, though he lived in the centre of the second biggest city in Japan, he lived a creative life, carving into wood or stone the symbols of business people around him.
We were discussing the things which our cultures defined beauty by. My views on crows changed when he described the long hair on a beautiful girl as the colour of a crow's wing. He said it was an old standard of beauty, hair that was black and glossy, catching the sunshine.
Now, when the crows look down on me I admire their glossy feathers and forgive them their need to seek sustenance in unpleasant ways during drought.
To me they are things to notice. What are yours?
Kx.