Last week Dirt Boy and I picked the last of the season's cabbages. We've enjoyed eating them and tonight it was time to use the last one.
How to use it? With the temperature broaching 40C I definitely wasn't going to cook it, so coleslaw it was. I must confess I love coleslaw. It screams summer and barbecues and steak sandwiches. Even the plasticky supermarket variety. Weird huh?
There are so many recipes for coleslaw. Sometimes I go fancy but tonight's version was a basic, though delicious version. There are no real quantities, just make it!
Shred your cabbage finely. Pop it in a bowl and (here's my secret!) sprinkle over about 2 teaspoons of sugar. Massage this through the cabbage. It softens the cabbage a little and sweetens it a tad.
To it I added a couple of finely grated carrots and a Thai shallot very finely sliced. Now the dressing…
I put about 3/4 of a cup of whole egg mayonnaise and about 1 tablespoon of good white wine vinegar in a bowl. Adjust the sharpness of the dressing by adding more or less vinegar. Throw in some ground white pepper and mix through your coleslaw mix.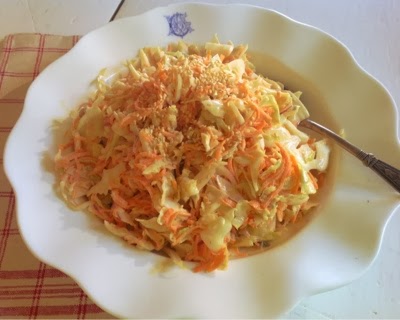 I added some toasted white sesame seeds for a little nutty flavour. Heck, I added a heap.They are so yummy!