Yesterday I packed up the kids and went off to visit Jellywares for the day. The weather was glorious and I was super keen to have a natter with the lady who first got me blogging.
The kids played in the Girl's school room. Being so far out of town, Jodie's girls do their schooling by distance education, so having friends come to visit is extra special.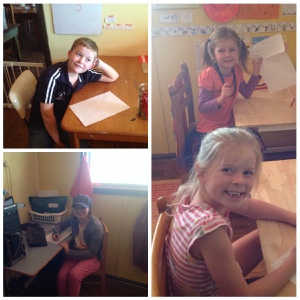 I'd be the worst sort of visitor if I arrived empty handed, so I made a slice I've loved for many years. This is the last piece being savoured this morning while a read Selvedge, my favourite magazine.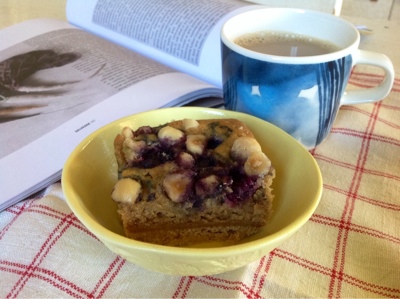 Hazelnut Blueberry Slice
2 cups self raising flour
2 cups plain flour
3 cups brown sugar
250 grams butter, softened and cubed
2 tsp bicarbonate of soda
1 1/2 cups buttermilk
2 eggs, lightly beaten
The finely grated rind of 1 orange
1 tsp cinnamon, or allspice…or no spice!
250g fresh or frozen blueberries
1/2 cup crushed hazelnuts
Preheat your oven to 180C. I make mine in a big baking dish. It measures 24 cm by 32 cm. Its kind of industrial sized! If you don't need quite that much feel free to halve the quantities and make it in a smaller tin.
Anyhoooo, put the flours, sugar and butter in a food processor and blitz it until it looks kind of like sand. Very yummy sand, of course! Press 4 cups of this mix firmly into the base of your tin. Now add the soda, buttermilk, eggs, rind and spice into the remaining mixture. Blitz, then pour over the base. To this off with the blueberries and hazelnuts. Bake it for about 50 minutes and cool it in the pan.
Yummy biscuittty base and cakes top. Yummo!
Hey, did you know that you don't really need buttermilk? My Grandmother taught me that if you don't have buttermilk, just add a dash of vinegar to the milk you have and use that. To be honest, this is what I do pretty much all the time when a recipe calls for buttermilk!