This blogging malarkey is an addictive little thing. The more I do the more I want to do! Here are 5 things I'm loving at the moment. Check out the other Blog with Pip students and their 5 things too!
1. Building my own little spot on the interwebs 
This time last year my own confidence in being able to move my blog to a .com, create a nice looking page and writing some interesting stuff was pretty low! This page is still very much a work in progress as time and knowledge permit, but I'm proud that I'm doing it myself! See I even made the little 'hello' sign above. Cute, eh?
I feel like an owner/builder. Come into my house, the doors aren't on the cupboards, there is sawdust on the floor, the paint is still a bit wet, but you are most welcome!
2. Origrami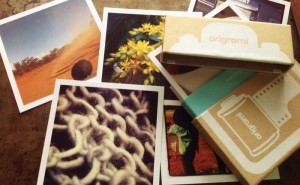 I know I'm not the only one who takes pictures and then leaves them sitting on the computer where no one can see them. I'm loving getting tactile memories from my Instagram account in the post. They are Australian too. Seriously good stuff! Check them out here and get those prints in your hands.
3. Kids playing music
I do extra stuff at work like teaching kids to play the recorder. This year we played at the Opera House. THE SYDNEY OPERA HOUSE!!!  I am so super proud of these kids! Most only took up the recorder this year, but are so dedicated. Left hand on top, kids!! Excuse the misspelling of our town's name…
Recorders? Yes! Recorders!
https://au.tv.yahoo.com/sunrise/video/watch/24314353/kobah-primary-school/
4. Photo Challenges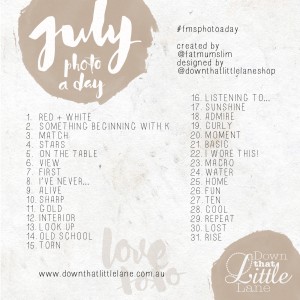 I've always been a joiner. I love collaborating and feeling like a group of folks are working towards something. I recently finished the 100 Happy Days Challenge. It was hard some days to find something happy, but there is always a little something to catch your eye and bring a smile to your face. Fat Mum Slim does awesome photo a day challenges too. I'm doing her July challenge because my birthday is this month. I'd like to document the month and then I'll print the photos out with Origrami and pop them on my wall. Cute!
AND… Christina Greve is doing a summer one. I love her dreamy style of photography and she is super positive too. LOVE! Its winter here, so I will be trying to channel a little summer sunshineyness on instagram. Follow along @kylieh72, if you want!
5. Cooking on my old Metters oven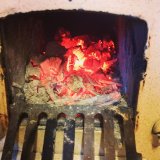 It has a tiny firebox and needs to be tended like a child, but lighting the old Metters oven in my kitchen really means winter to me. I bake whole pumpkins for the best tasting soup and the kids and I toast marshmallows. A simply joy.
Pop back again, especially in winter as I love nothing more than sitting in the kitchen for a chat.
Kx.