The other day Katie180 put out a call on Facebook. Tell her two ingredients and she would suggest a recipe. I looked around my kitchen for two things that needed using. I've just come back from a visit from my Mum's, who loaded me up with oranges from her garden. That was one thing.
The other thing I have loads of is organic rye flour. Living where I do buying in bulk is a good idea, but why I thought I'd get through 5kgs of rye flour quickly is beyond me. So, these were the two things I out forward.
Katie suggested fresh orange juice and because of the nature of the rye flour, something stodgy. Well, I'd been looking for and excuse to do a bit of baking so I put my thinking cap on. The forecast was for cold windy weather which in my mind calls for something cakey and puddingy and warm. Hence the creation of this cake.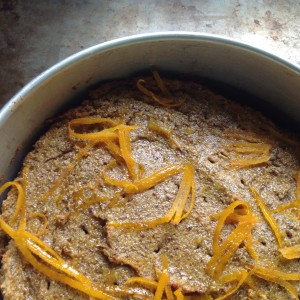 Whole Orange and Rye Cake with Orange and Rosemary Syrup
2 Organic Oranges
5 eggs
1 cup Organic Rye Flour
1 cup Almond Meal
1/2 cup Coconut Flour
2 tspn Baking Powder
2 Tblspn Honey
For the Orange and Rosemary Syrup
Juice and rind of one Organic Orange
1/2 cup caster sugar
1/2 water
1 sprig of Rosemary
Place 2 oranges in a saucepan and cover with water. Bring to the boil and simmer for 2 hours until the oranges are soft. Set aside to cool. This can be done ahead of time.
Preheat the oven to 170C.
Pop the oranges in a food processor and process until they are a fine pulp. Add the eggs, one at a time, alternating these with the dry ingredients. Add the honey and a little water if the mixture looks a little dry.
Place all of this into a lined round 22cm cake tin. Bake for about 40 minutes or until the centre is firm.
While the cake is cooking place the syrup ingredients in a saucepan and heat over a medium heat until the sugar is dissolved. Keep it nearby!
Take out of the oven and poke holes over the cake with a skewer. Pour over half of the warm syrup and let the cake sit for 20 minutes.
Then serve the warm cake with an extra drizzle of syrup and some thick yoghurt.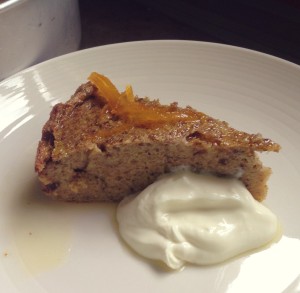 Enjoy!
Kx.
By the way, any left over syrup makes an awesome drink if you add some soda water (and some gin or vodka, if you wish). Cheers!