Tomorrow is the first of September, the beginning of spring here in Australia, though the plants and animals started a little earlier than that with their blooming and breeding.
I love this time of year in the Outback with all of the wildflowers blooming and the weather is just amazing. Its so wonderful to be outside, so I thought of this little challenge and was wondering if you'd give it a go too.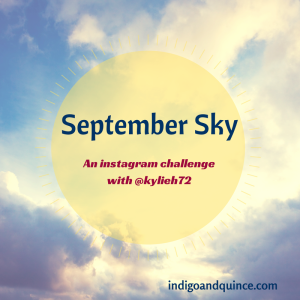 Each day in September let's take a picture of the sky and post it to Instagram with the hashtag #septembersky. I'm really hoping you'll join in and we'll see the sky all over the place. I'm travelling quite a bit in September so I'm looking forward to keeping those memories through the pics of the sky I see each day.
Maybe you'll take your shots each day at the same time or as the mood strikes. Do you want to join me? Head over to Instagram and find me as @kylieh72. I keep my profile private because of my day job, so don't get freaked out! Request away!
Kx.