The other day I was clearing out some paper (man, do I love random stacks of paper!) when I came across a list of people I was going to interview this year. Creative people I know personally, creative people I've got to know online, people who I think are interesting and I would like to share with you. And I didn't do it!
And you know what? Here we are in December and 2014 is running away from me. The last three months have been a whirlwind. We had an awesome family holiday travelling through (further) Outback Australia, but I returned ill and it has taken a little while to start getting over that. I won't bore you with the details, but it hasn't been fun and its not over yet.
BUT!!! I do feel a bit better and I miss the online creative vibe.
So I'm looking forward to 2015 with renewed vigor. One thing I did stop doing over the last three months was planning. I was always the one person who looked sideways at folk with 'To Do' lists and thought 'How Boring!'.
It may be that I now need to eat a piece of humble pie. This year I started writing lists and actually crossed things off them. A daily list of three things I wanted to achieve was tops and I felt great as I saw that I was making progress, rather than ruminating on all the the things I had to get done.
So to get ready for 2105 I'm looking at some nice bits of stationery to help me along. At the top of my list is the Frankie Daily Journal.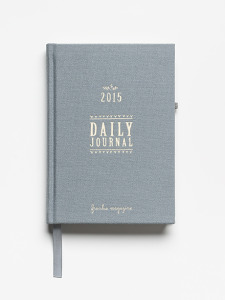 I've used it as my work diary for the last couple of years and its just right. I don't want one of those huge 'teacher' diaries that weigh a tonne and you panic over if you misplace it. I can keep track of things and I can then have an excuse to use a cool notebook when I'm in meetings!
On the other hand, I'm loving the Kikki K leather planner and finding it has been used in really creative ways by others. Or is it just an excuse to but more washi tape and sweet looking stationery?
1. kikkik.com
2. LifeIsCrafted on etsy.com
3. JessAmyFlo on etsy.com
Here's to a more organised, kick arse kinda 2015! What are your tips and trick for staying on track?
Kx.