I am a selfish knitter. There, I said it.
About 6 years ago I made my daughter a beanie. It was the Snapdragon Tam by Ysolda Teague and it was a bit of a punt as to if she would wear it or not. Lordy! I loved knitting that thing. A good chunk of was knit while I sat with my good friend Anni. She sewed, I knitted and we both ate chocolate and laughed/cried through all episodes of Gavin and Stacey. The aqua colour was gorgeous. The pattern expanded my skills and as it grew on my needles I imagined my tousled haired girl rugged up and loving the winter outdoors life.
Then, I gave it to her. 'Thanks Mum.' That's all she said before she stuffed it in a draw. It didn't go on display or get paraded for admiration.
I made her wear it a couple of times before she told me she wasn't really a 'hat person'. Later, I found it in a toy box looking sad and sorry. I gave it to her sister who is a 'hat person'. I vowed never to knit her another thing!
Well, I did knit her more things, because I am a compulsive knitter. They, too, were worn once or twice and cast aside. That's when i decided to only knit for people who appreciate the time that it takes to handcraft something. And in my family, that's mostly me. I'm the one person who wears the handknits with pride, and more importantly doesn't just chuck it in the washing machine or leave them in a dusty spot to become silverfish fodder!
But there is a limit to the number of things I can knit for myself before I start to fell a little guilty at all the yarny goodness in my cupboards in my cupboards. I had knitted some square for the Wrap with Love appeal and really felt they were appreciated.
So that's why I went on the search for some more feel-good things to knit to help others. So, here are Five Feel-Good Ideas for Your Knitting Needles
Wrap with Love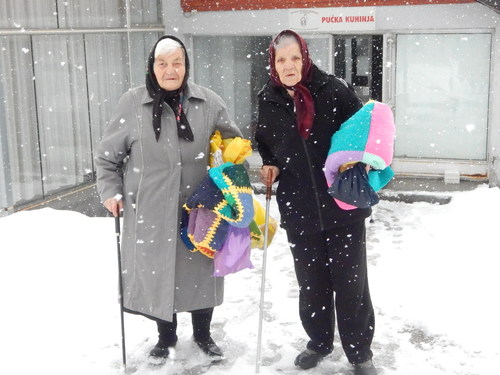 Since 1992 Australian knitters and crocheters have been donating squares to create wraps. To date there have been over 414,00 wraps sent all over the world to 'cold humanity'. Such a good thing.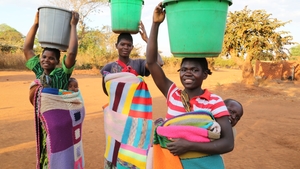 Now, now. stop sniggering. These handmade prosthetic breasts are provided free to American women who have undergone mastectomies or breast surgery. They are light, washable and don't require a special bra like the usual prosthetic. And you can request them in funky colours too! Yay for individuality!
Oh! And you can make Knitted Knockers in Australia with Knitted Knockers Australia too!
Lynda Rennick from homelealass.com started Create Grow Love to help out people who are having a bit of a hard time. You can create scarves or baby blankets and send them off to Lynda. They are then distributed through Helping Hands Dalby with emergency food packages. Full tummies and full hearts all round!
Great White Mitts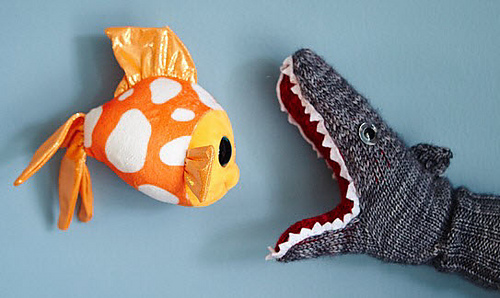 Maureen Fould's daughter loves all things sharky, so she designed these shark mitts to please her. Maureen has released the pattern to help support OCEARCH, a leader in conservation research for Great White Sharks.
If you hop over to Ravelry between June 26 and July 2, 75% of the pattern sales will be given to OCEARCH. After that 25% of sales will be donated.
Sight is Life is an initiative where knitters will help to restore the sight of 1,800 people annually in the Democratic Republic of Congo, the poorest country in the world. So if you own the Sight is Life e-book or single patterns, you will help to change the life of a person who is in real need for help.
I'm knitting the Golden Sand shawl by Joji Locatelli. Its a bit nice isn't it?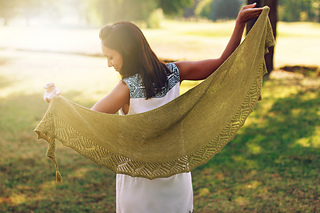 I plan on knitting all the shawls in the collection as the other designers include Romi Hill and Gudrun Johnston, who's work is fabulous. Can't wait to see what they have contributed to the project and how we all interpret their designs.
You can get the patterns from Ravelry. (What? You're a knitter and don't know about Ravelry? We need to talk! Hop on over, sign up and watch your knitting go to a whole new level!)
All the income of the Sight is Life initiative  funds the work of an ophthalmologic project in Congo. You can read all about Dr Hardi here.
So, has that piqued your interest? Feel like taking up the yarn and needles? I'd love to hear how you go or if you know of other ways to make Feel-Good Knits!
Kx.